ONLINE LESSONS
During the COVID-19 Pandemia we offer Online Learning to all our students. All students have regular private lessons. We also added weekly Group Lessons on Music History, Theory and various music activities.

We offer online lessons and coaching for distance learning students. Available Worldwide.

Please, contact us at https://www.newenglandfluteinstitute.com/Schedule-a-lesson
---
WEB FLUTE ACADEMY
Yulia Berry is a co-founder of the Web Flute Academy - an online institution, using best e-learning tools, blended with live online webinars and offered worldwide.
Individual live video lessons with Yulia Berry are available upon request and are offered through the Web Flute Academy platform. You must fill out the registration form on this website first.
Who is it for: LIVE online lessons will be provided for long distance students or for current students, when there is Inclement Weather.
*Please, note that for missed regular lessons of current students we use a different platform. The lessons will be recorded by your teacher during the missed lesson time, uploaded to your own virtual classroom and sent directly to you. No need to download anything on your side, it is an easy access through any device, connected to the Internet. Do not request live online lessons as a makeup option. Refer to the
studio policies
.
About Web Flute Academy:

ONLINE LESSONS
During the COVID-19 Pandemia we switched to Online Learning. All students are having regular private lessons. We also added Online Group Lessons on Music History, Theory and various music activities twice a week.

We offer online lessons and coaching for distance learning students. Available Worldwide.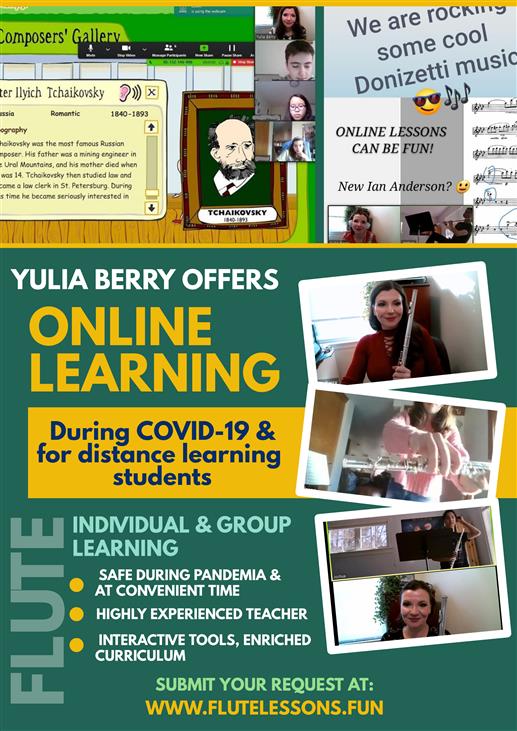 Please, contact us at this page
---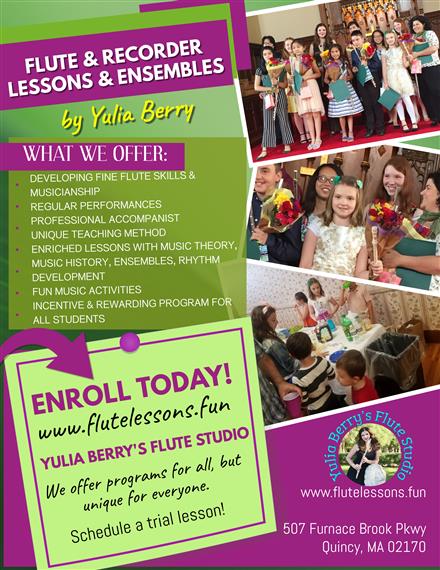 Quincy, MA location
Convenient for all South Shore of Boston (towns: Quincy, Braintree, Weymouth, Hull, Hingham, Milton, South Boston, Boston, etc)
Near the MBTA Red Line.
Sharon, MA location
We are accepting registrations at the New England Flute Institute, our location in Sharon, MA. (towns - Sharon, Canton, Easton, Stoughton, Dedham, Norwood, Westwood, Randolph, Mansfield, Medfield, Wrentham, Holbrook, etc)
PROJECTS
NEW ENGLAND FLUTE INSTITUTE
Yulia Berry is Founder and Artistic Director of the New England Flute Institute, where traditions meet exploration. NEFI nurtures musical developement, performance skills and inspires artistic excellence in all our students - from beginners to emerging professionals - by offering well-rounded music education, access to learning resources and opportunities to work closely with some of today's leading Flute Artists. NEFI is located in Sharon, MA.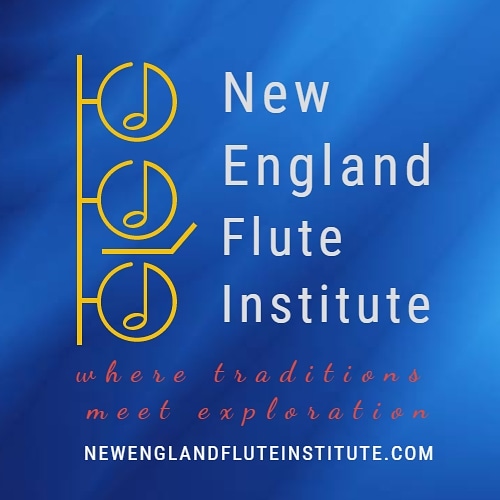 MOBILE APP CREATOR / DEVELOPER
Yulia Berry is the creator and the developer of ALL about FLUTE, a FREE Mobile app, available for iPhones and Androids. This is a must have for flute players of all skill levels and disciplines. With useful links, streamlining notifications, and informative articles, "ALL about FLUTE" serves as a gateway into the world of flute playing.
ONLINE PUBLISHER / EDITOR / INTERVIEWER
Yulia Berry is interviewer and editor at Chattoir Editorials - an exciting addition to the Internet community ChaTToir!, created for artists and musicians.
WEB FLUTE ACADEMY
Yulia Berry is co-founder, along with renowned Italian flutist Onorio Zaralli, of Web Flute Academy. Web Flute Academy (WFA) is an online institution, offering an innovative way to learn the flute by blending best e-learning tools and live video meetings, while using the most advanced computer and mobile technology, as of today. Web Flute Academy is for anyone, who wants to dramatically improve their flute and performing skills, while studying in the convenient place and time. Visit WFA at www.webfluteacademy.org