MEDIA AND PROJECTS
"THE BABEL FLUTE" - International Flute Magazine and Community
Founder, Director, web developer
The Babel Flute is a multilingual platform where flutists from many countries share their unique research and articles with the global flute community.
The platform offers instant and exceptional quality translations in over 100 languages and aims to connect flute players from all over the world.
The Babel Flute has a magazine, forum, classifieds, job/collaboration board, online store, calendar of historical flutists, quizzes and flute games.
Since the launch of the project on March 20, 2021, more than 70,000 people from 132 countries have visited the platform.
The magazine is published 4 times a year: March - June - September - December.
---
"Young Virtuoso", annual flute competition
in Saint-Petersburg, Russia
(2012-2020)
Co-Founder, Sponsor
"Young Virtuoso" is an annual flute competition held in St. Petersburg (the hometown of Yulia Berry) on the basis of the State Mravinsky Music School. The author of the idea and director Irina Nekipelova.
Yulia Berry is proud to be Co-Founder and Sponsor of Young Virtuoso from the very beginning, along with the Maestro Yuri Temirkanov International Foundation for Cultural Initiatives.
Xth Young Virtuoso, Annual Flute Competition in Saint-Petersburg, Russia was held in February of 2020. The original idea to hold it on or around February 14, Valentine's Day to celebrate love for the Flute has been carried through 9 years, proving that love always wins.
The competition has been thriving and blossoming, transforming into a 2 level competition, taking place at the Mravinsky Music School and finishing the second round at the Mussorgsky Music College and The Rimsky-Korsakov Music College (alternating them every year). Among the judges are best flutists and flute teachers of Saint-Petersburg. As the competition keeps growing, more flutists every year from many regions travel to Sant-Petersburg to participate.
Every year the contestants are required to perform a solo flute music, written for the Competition. This year the required piece is "From The Far Land" by the amazing Romanian-Canadian composer Marius Herea!
Congratulations to the Author of the Competition Irina Nekipelova. Irina is a very dedicated flutist and pedagogue, whose students won countless competitions and performed in best music venues and palaces of Saint-Petersburg. Irina has been working tirelessly on taking "Young Virtuoso" to the highest level!
Also, thank you to all volunteers and of course, the Mravinsky Music School for their strong support!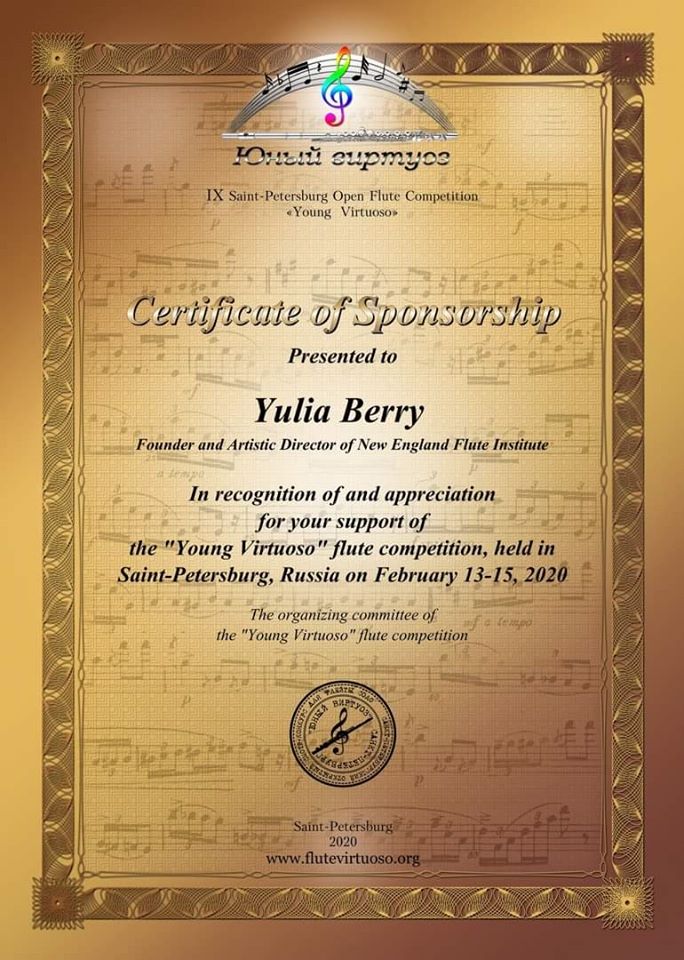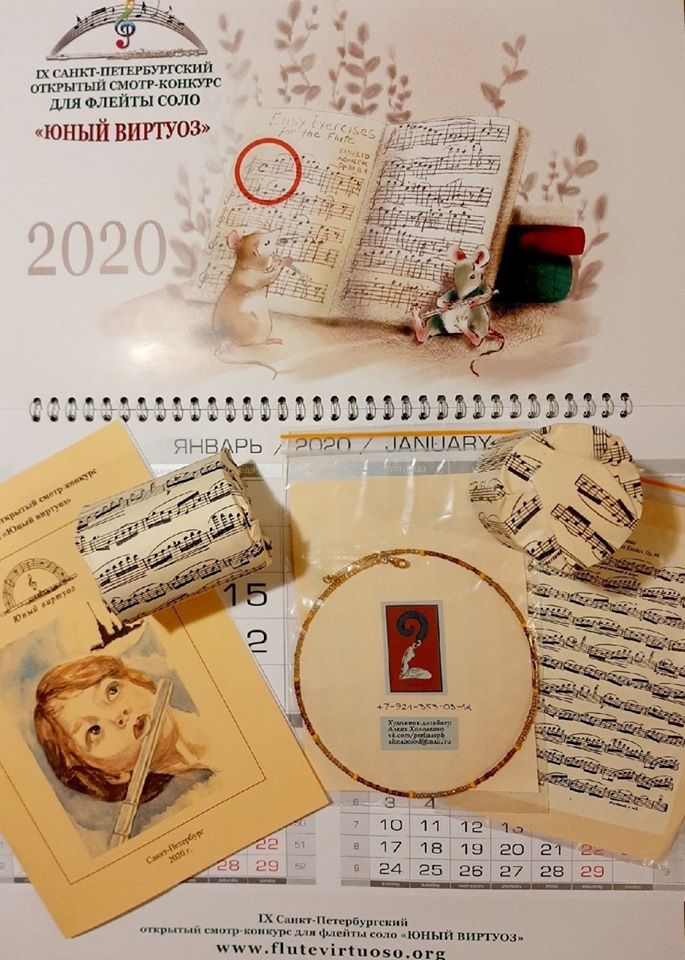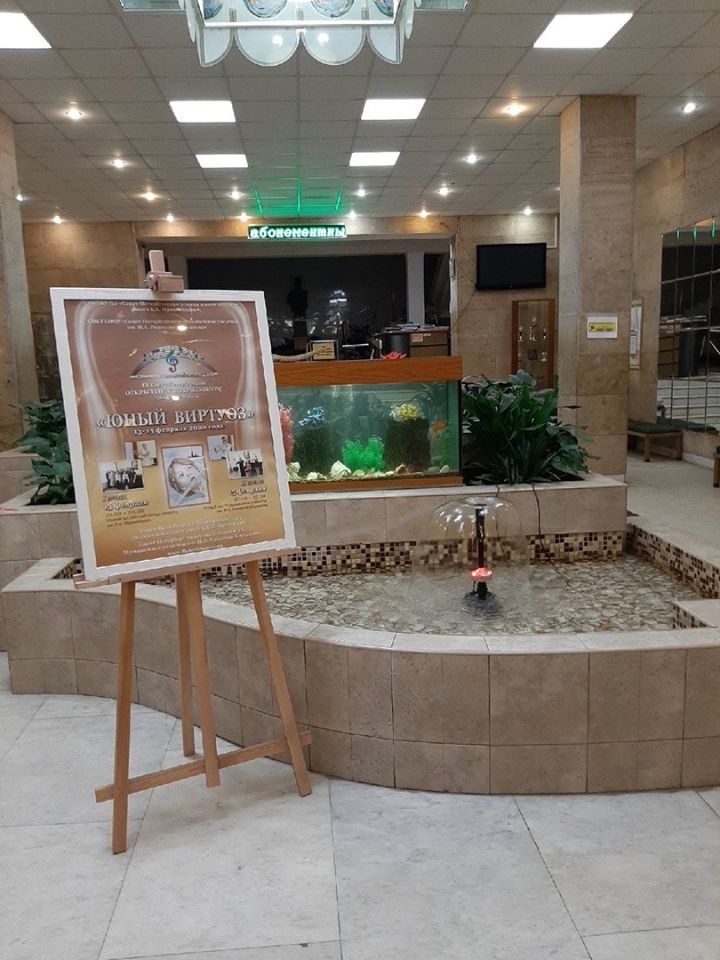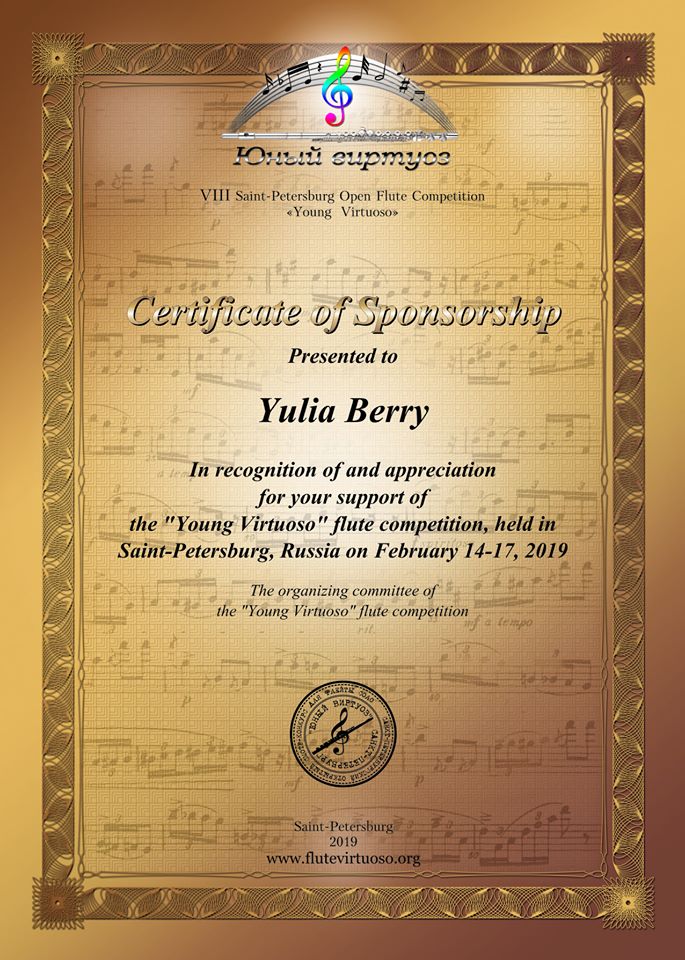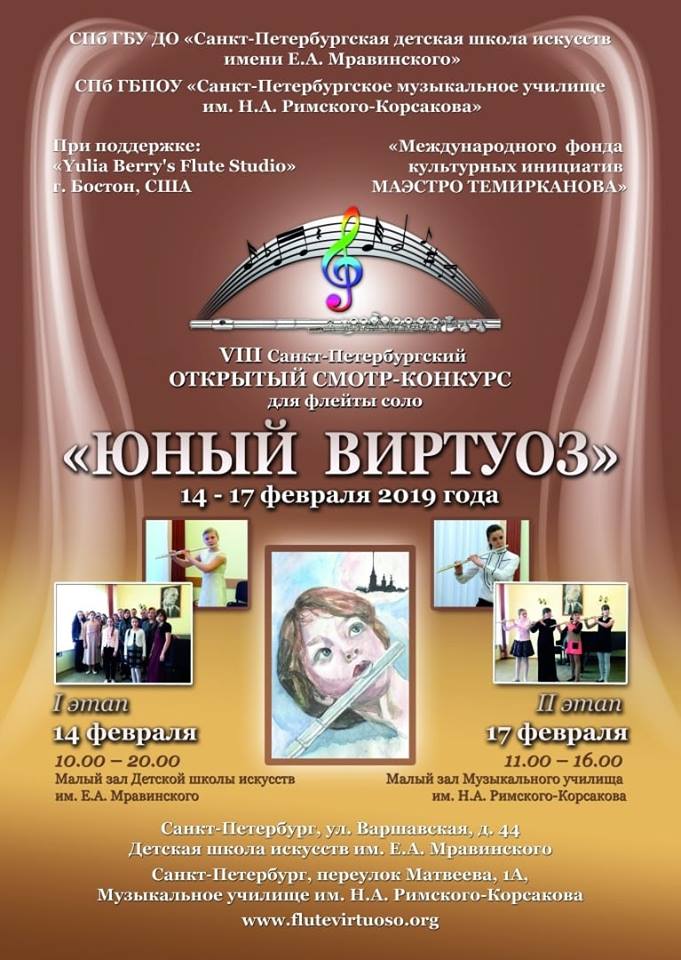 In 2016 Yulia Berry was a guest judge at the V Anniversary Competition.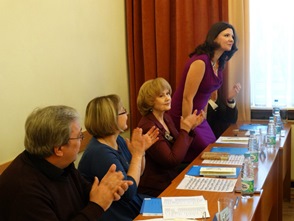 ---
My Favorite Flute, international competition
Judge, 2019
In 2018 and 2019 Yulia Berry was in the jury for the online competition "My Favorite Flute", the final round of which took place in Moscow in April of 2019, during the festival "Great Flute Days 2019". Both Yulia Berry's projects "All about Flute" and "Web Flute Academy" supported this biggest flute event in Russia.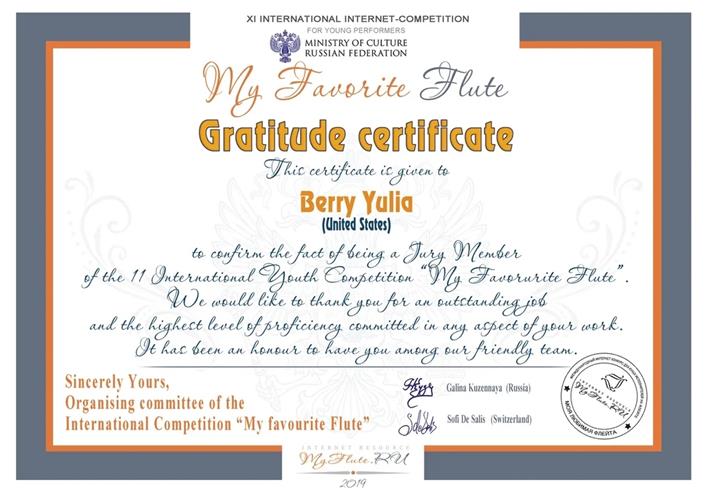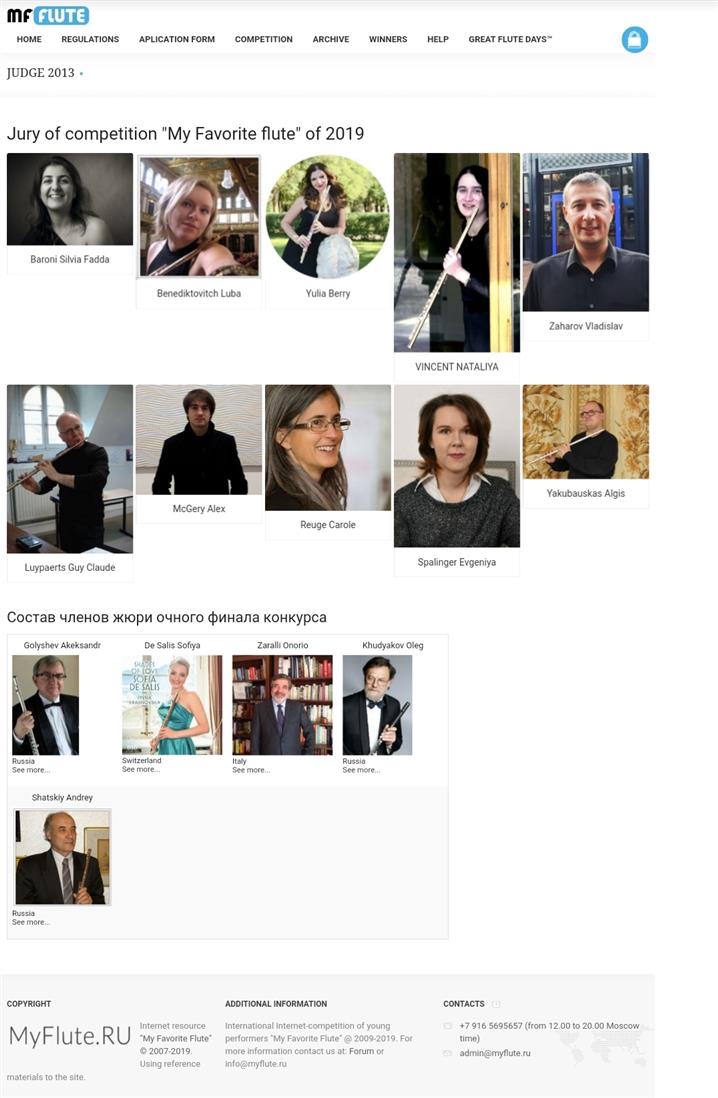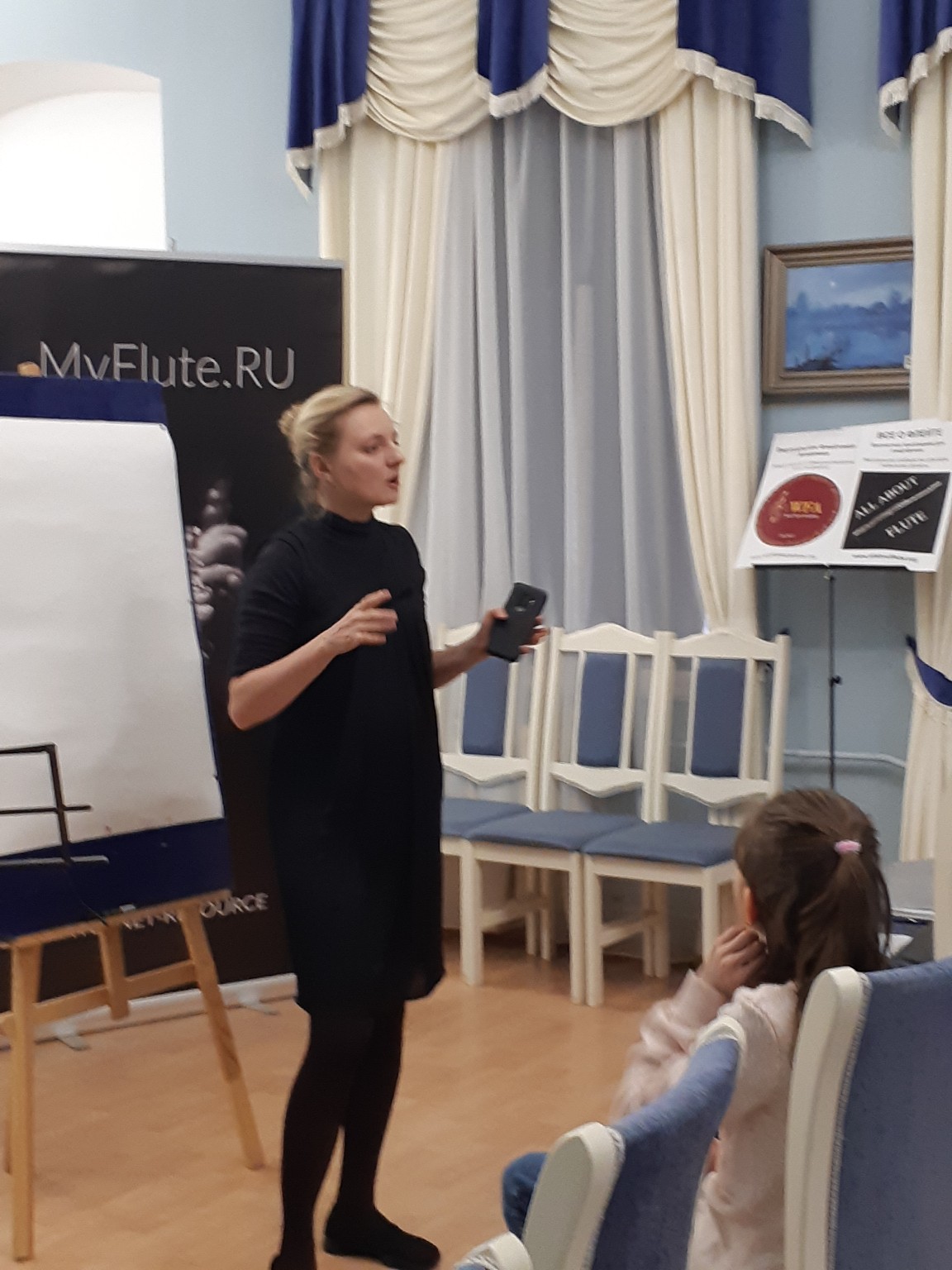 Judge, 2018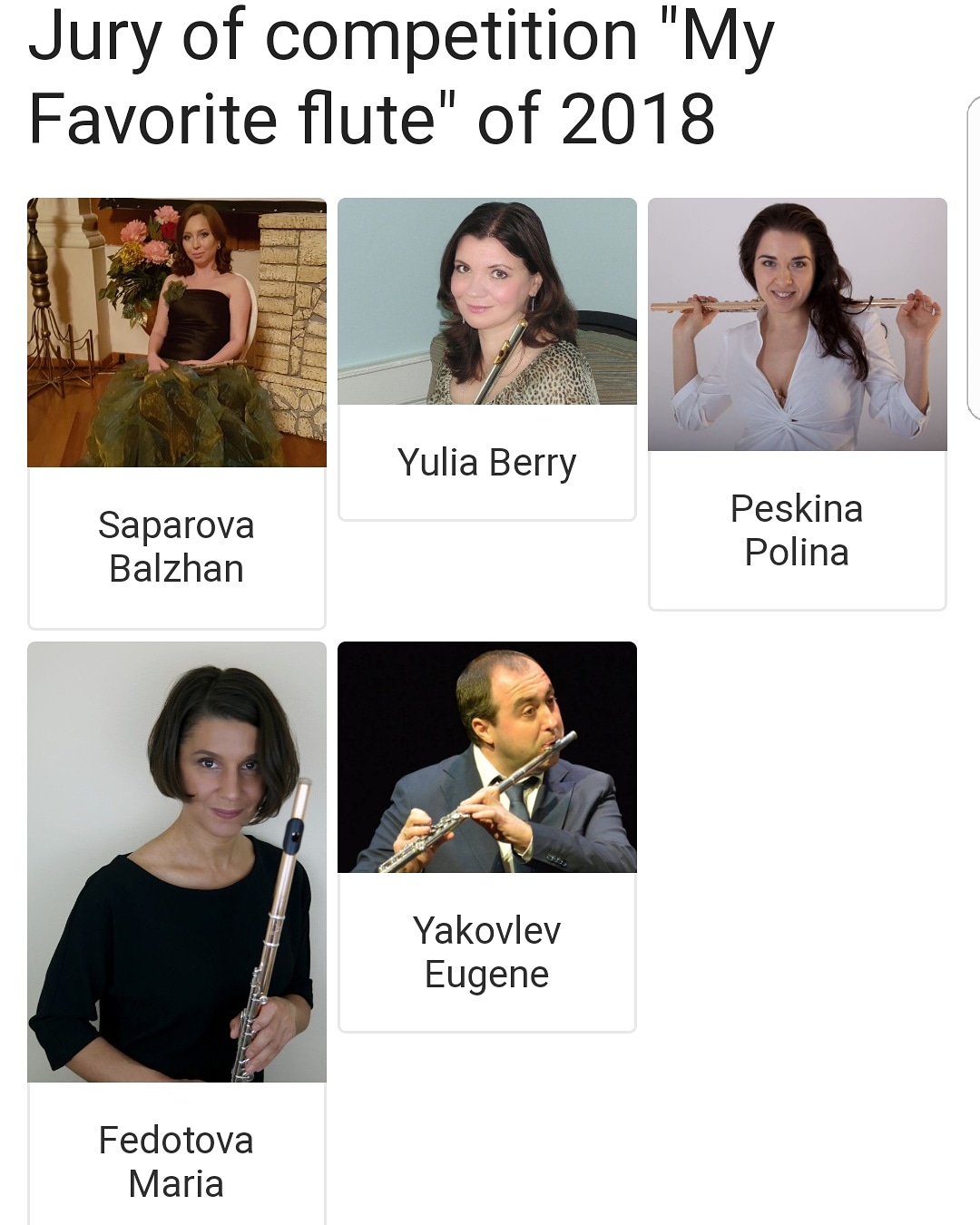 ---
Eugene Magalif's Flute Concerto International Competition 2018.
Author of the idea, organizer, sponsor, media partner, judge
Yulia Berry was the author of the innovative idea, a co-organizer and one of the judges for Eugene Magalif's Flute Concerto International Competition 2018. It was held online in November 2018. The competition received a tremendous amount of attention on social media, got over 150000 views in total and had 18 finalists from 10 countries.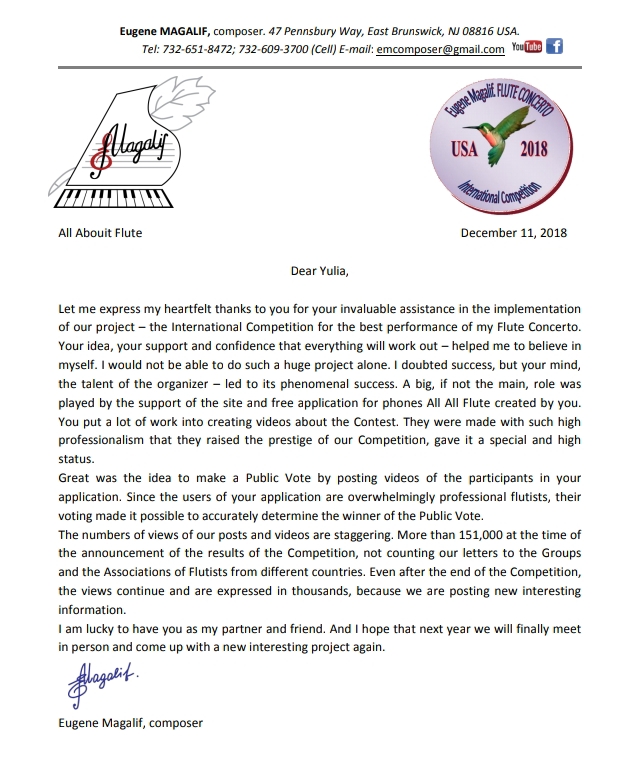 ---
Interviews
Learn more about our flute studio and Yulia Berry from the interview in "Boston Voyager Magazine / Boston City Guide" (April 2018)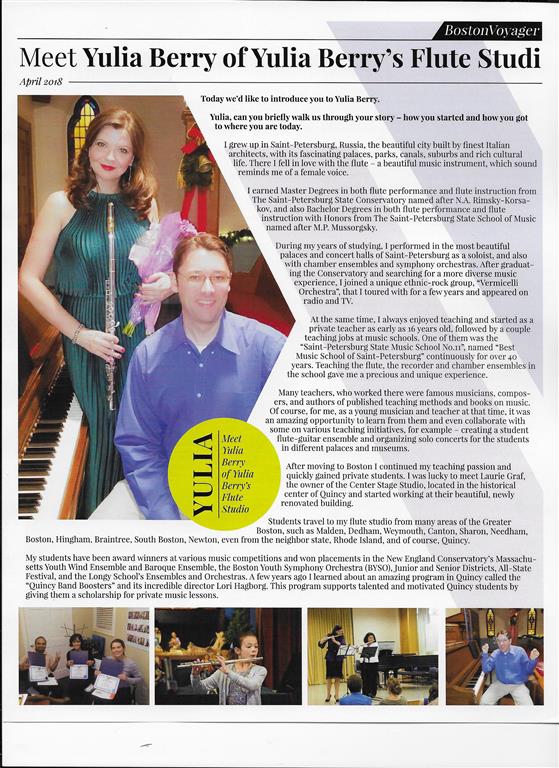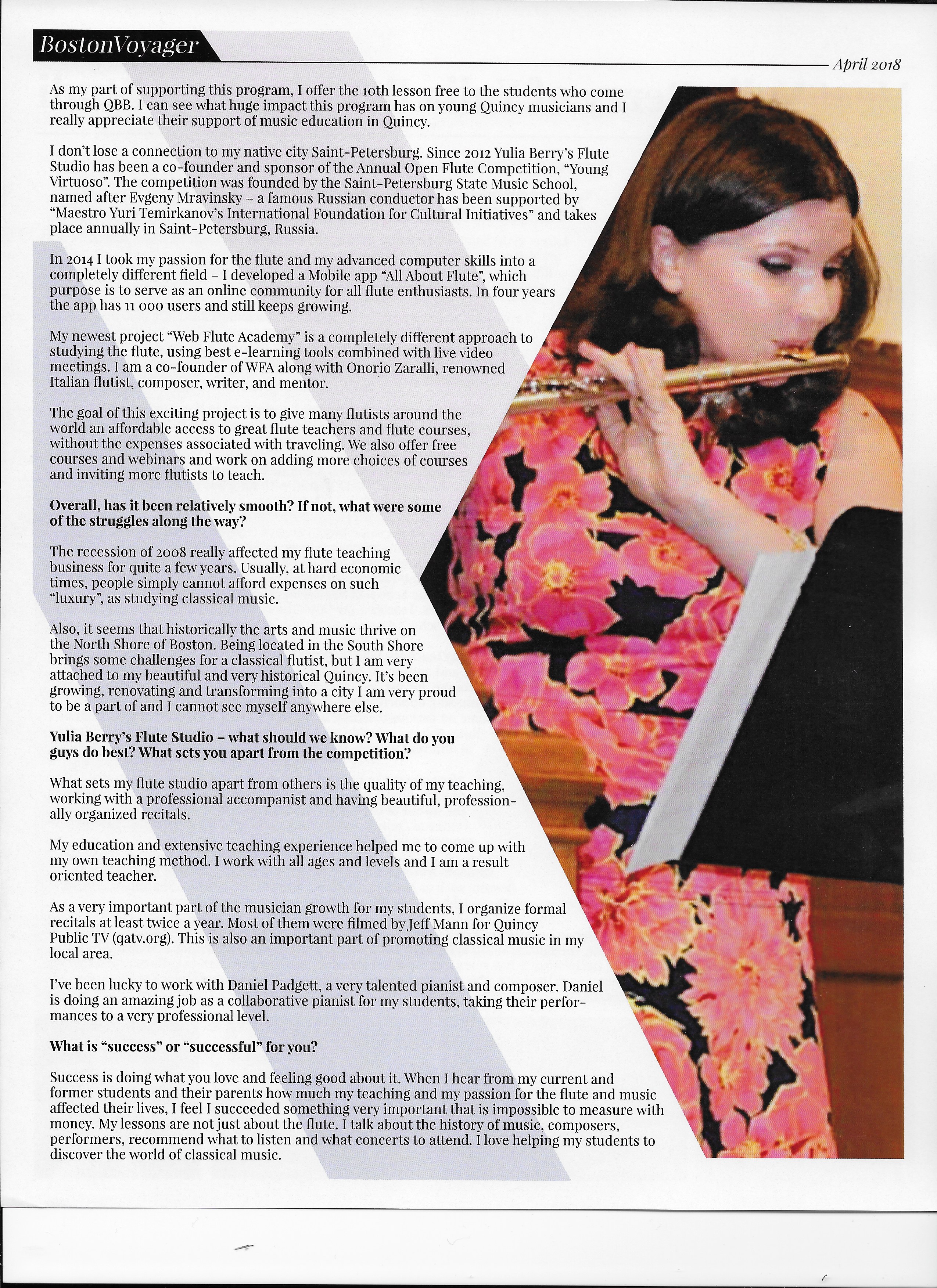 ---
Thank you to my students and their parents for leaving these great reviews on Google!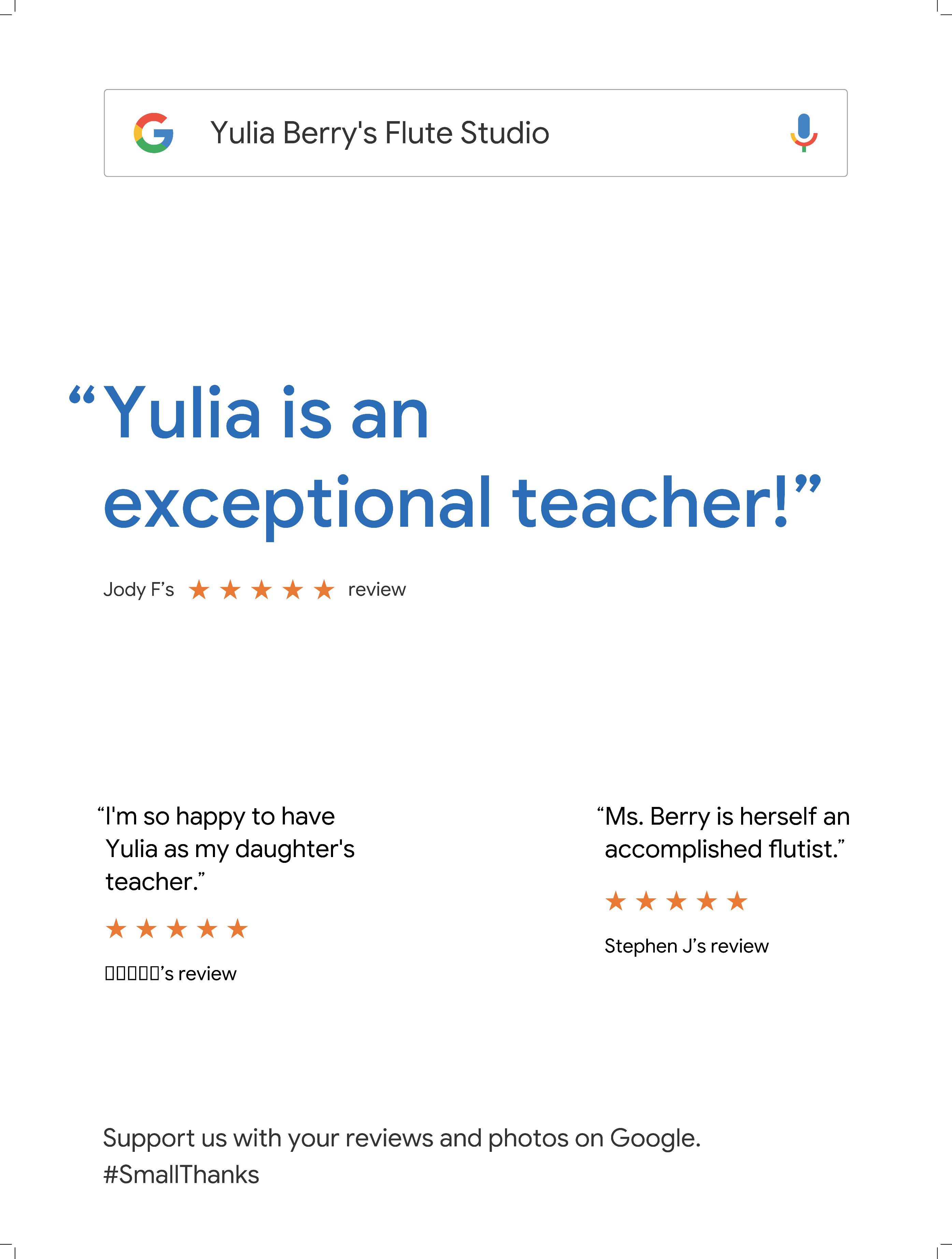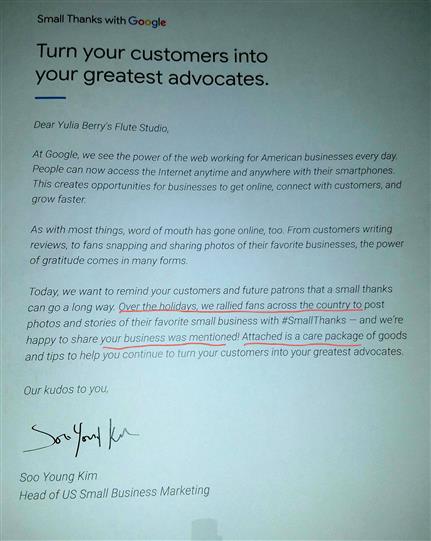 ---
Yulia Berry's Flute Studio Recitals have been filmed and shown regularly on Quincy Public TV since 2012.

---
Yulia Berry's interview with The Flute View in May 2015 issue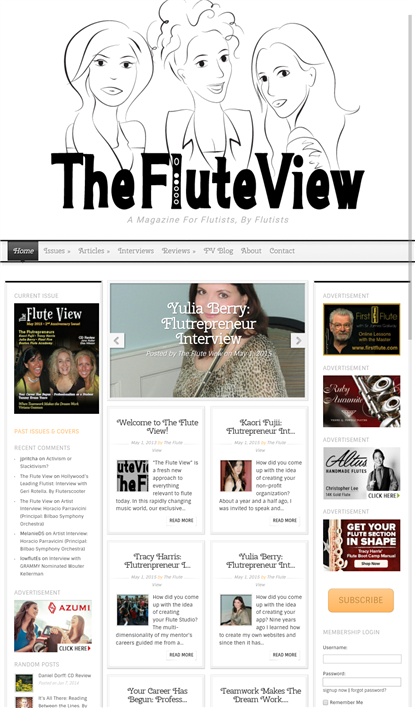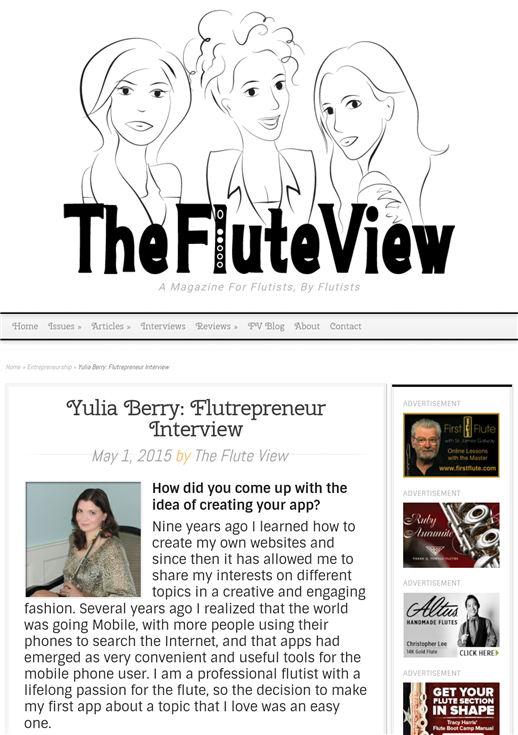 ONLINE LESSONS
Online lessons and coaching for distance learning students. Available Worldwide.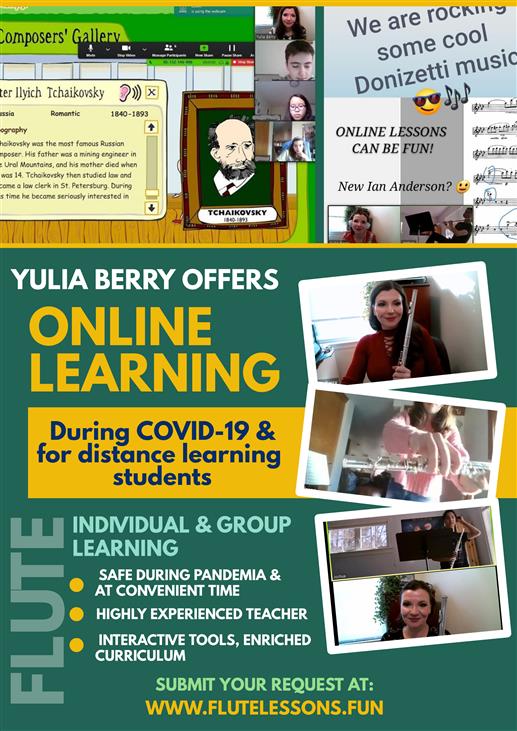 Please, contact us at this page
---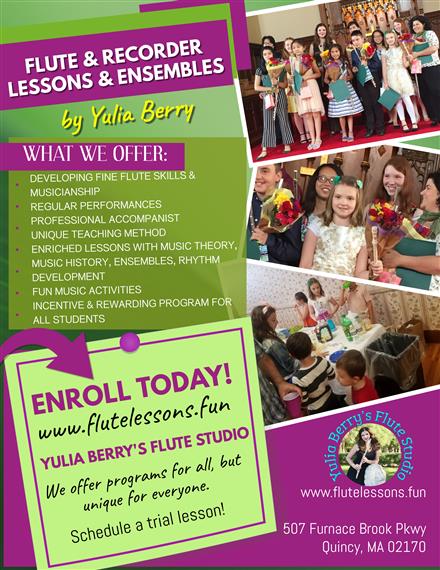 Quincy, MA location
Convenient for all South Shore of Boston (towns: Quincy, Braintree, Weymouth, Hull, Hingham, Milton, South Boston, Boston, etc)
Near the MBTA Red Line.
Sharon, MA location
New England Flute Institute is located in the center of Sharon, MA. (towns - Sharon, Canton, Easton, Stoughton, Dedham, Norwood, Westwood, Randolph, Mansfield, Medfield, Wrentham, Holbrook, etc)
OTHER PROJECTS
NEW ENGLAND FLUTE INSTITUTE
Yulia Berry is Founder and Artistic Director of the New England Flute Institute, where traditions meet exploration. NEFI nurtures musical developement, performance skills and inspires artistic excellence in all our students - from beginners to emerging professionals - by offering well-rounded music education, access to learning resources and opportunities to work closely with some of today's leading Flute Artists. NEFI is located in Sharon, MA.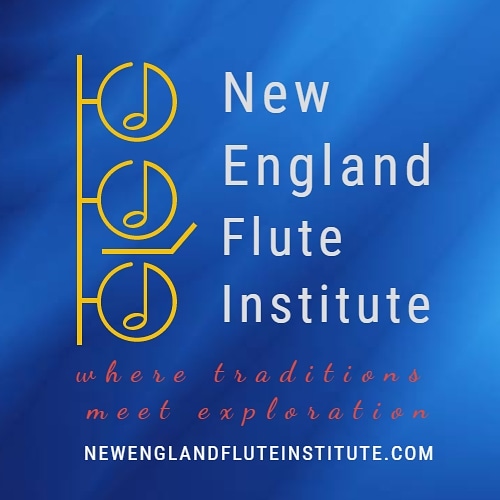 THE BABEL FLUTE
Yulia Berry is Founder and Director of International magazine & community "The Babel Flute" with a goal to bring flutists from all continents together. The Babel Flute publishes latest flute research, offers flute forum, a job board, flute quizzes and games, a shop and more. All content is instantly translated to over 100 languages.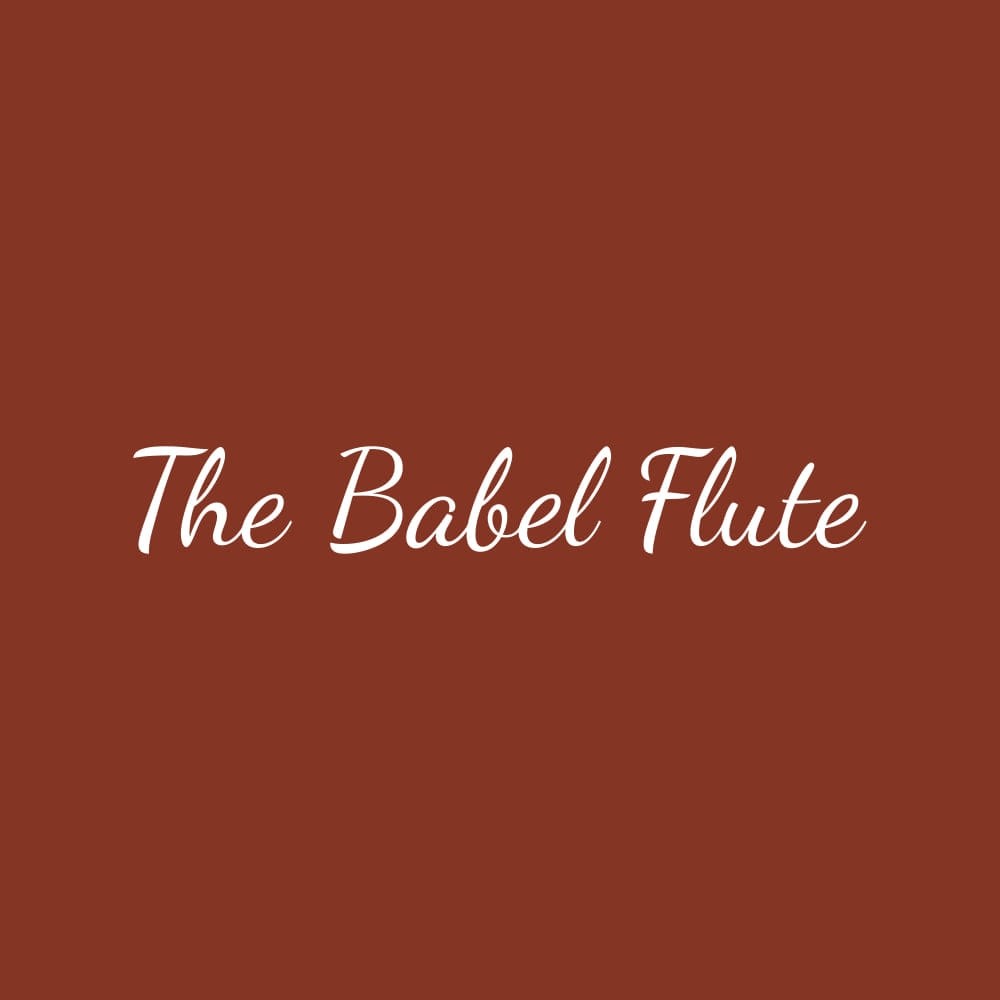 ALL ABOUT FLUTE
Yulia Berry is the creator and the developer of the web resource ALL about FLUTE. This is a must have for flute players of all skill levels and disciplines. With useful links, streamlining notifications, and informative articles, "ALL about FLUTE" serves as a gateway into the world of flute.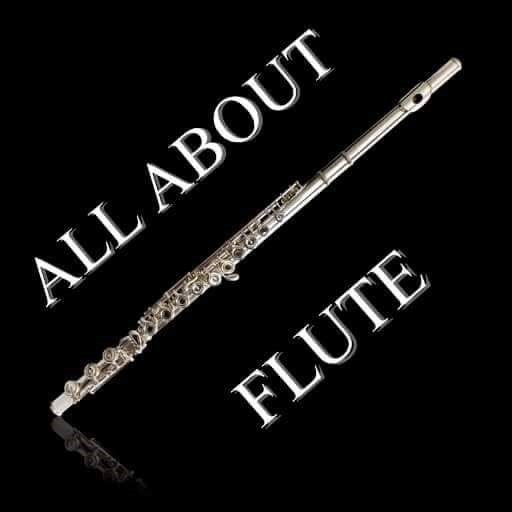 ONLINE PUBLISHER / EDITOR / INTERVIEWER
Yulia Berry is interviewer and editor at Chattoir Editorials - an exciting addition to the Internet community ChaTToir!, created for artists and musicians.
WEB FLUTE ACADEMY
Yulia Berry is co-founder, along with renowned Italian flutist Onorio Zaralli, of Web Flute Academy. Web Flute Academy (WFA) is an online institution, offering an innovative way to learn the flute by blending best e-learning tools and live video meetings, while using the most advanced computer and mobile technology, as of today. Web Flute Academy is for anyone, who wants to dramatically improve their flute and performing skills, while studying in the convenient place and time. Visit WFA at www.webfluteacademy.org