Welcome to Yulia Berry's Flute Studio
Exceptional private flute & recorder instruction and structured music curriculum to dedicated students in the Greater Boston, MA from a highly experienced teacher, D.M.A.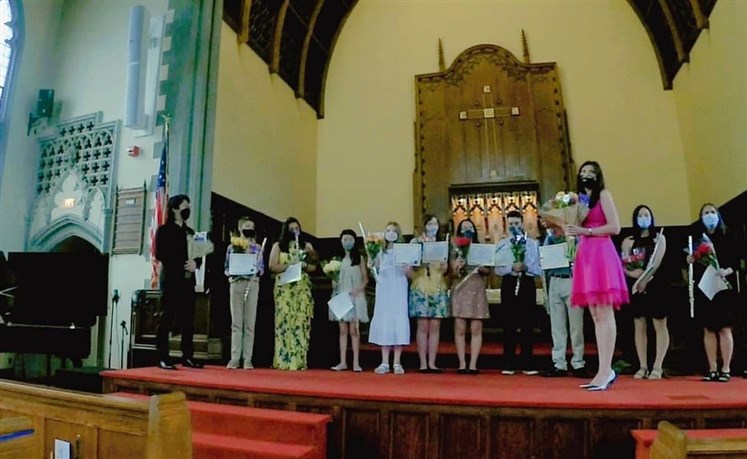 LOCATIONS IN PERSON
Quincy and Sharon, MA
ONLINE LESSONS
Worldwide
ALL LEVELS
Beginner, intermediate, advanced
ALL AGES
As early, as starting at 5 years old. Over the years I had students up to 77 years old!
CLASSICAL, WELL-ROUNDED MUSIC EDUCATION
It includes music theory, music history, ensembles, recitals, rehearsals with a professional accompanist, rhythm developement exercises and various music activities as a part of the Academic year curriculum of private lessons
ADVANCED FLUTISTS
Keep improving fine flute skills and have performance opportunities
STUDENTS WITH NO PREVIOUS MUSIC EXPERIENCE
Children and adults are welcome!
REGULAR FORMAL RECITALS
In beautiful venues of the Greater Boston
PROFESSIONAL ACCOMPANIST
All students work with a professional accompanist and are encouraged to perform at the recitals
PREPARING FOR AUDITIONS, COMPETITIONS & PUBLIC PERFORMANCES
POSITIVE ENCOURAGING ATHMOSPHERE
Delivering real and impressive results
COVID PROTOCOL
We are strictly following the Covid-19 protocol, recommended by CDC.
Mask policy: While in the studio, masks are required for all: students walk to the room wearing a mask and the teacher wears a mask at the lessons (unless need to demonstrate playing)
Parents: parents should wait in the car to minimize the contact (unless you are new to the studio and want to listen to the lesson)
Sanitizing: all surfaces are sanitized between the lessons.
Feeling unwell for any reason: If you are not feeling well, do not come - we will have an online lesson instead when you feel better.

Since the beginning of the pandemic we have had ZERO cases in the studio among students, teacher and accompanist, despite switching to in-person lessons as soon as it was allowed by the governor and having had a few live recitals.

SUPPORT OF QUINCY STUDENTS
If you are a student of Quincy Public Schools, you might be eligible to receive the Quincy Band Boosters scholarship towards 10 private flute lessons.
Apply and choose Yulia Berry as your teacher!
Being a long term part of Quincy community and as her personal commitment to give back to the local community and to support Quincy students, Yulia Berry offers a huge 20% discount to first time students, coming from QBB towards their first 10 lessons.
If you received a scholarship towards private flute lessons from another town and choose Yulia Berry as your teacher, you will be granted a significant 15% discount towards your first set of lessons.
---
ABOUT YULIA BERRY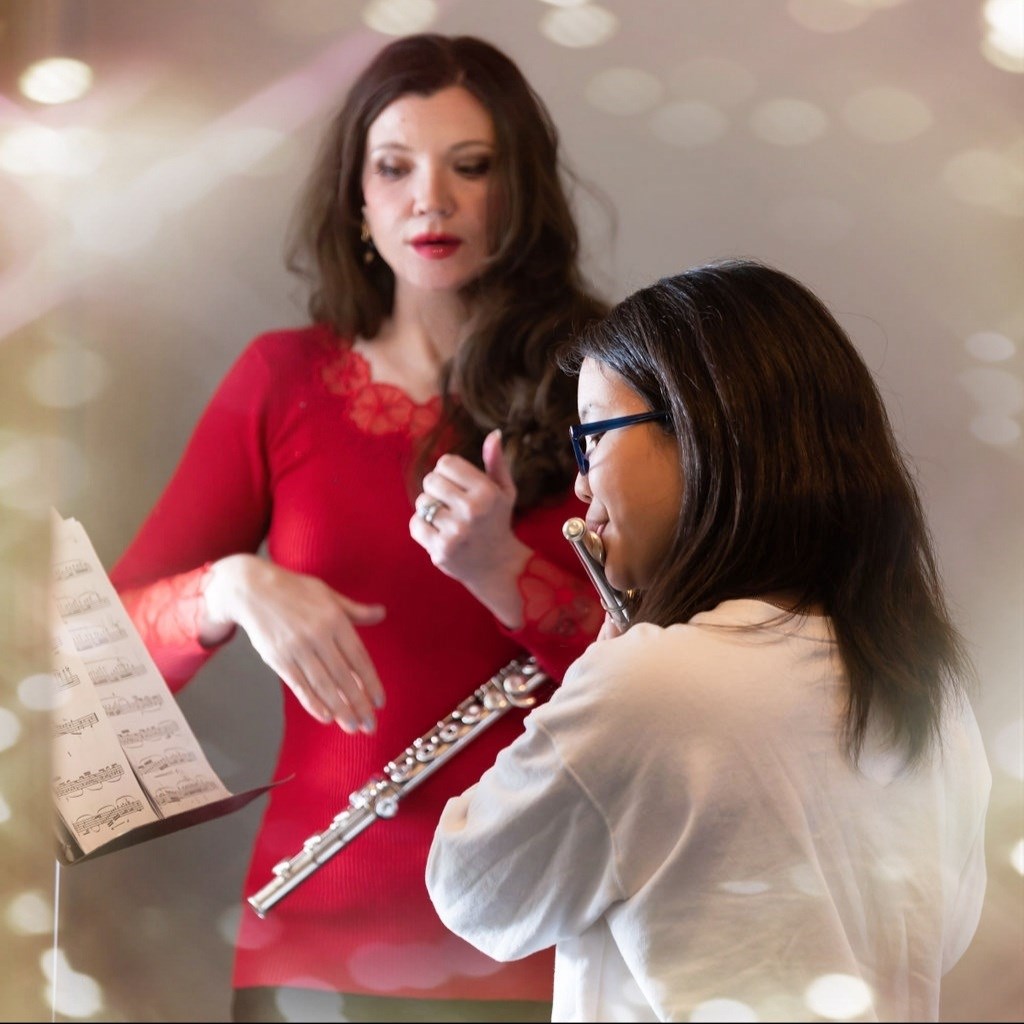 Ms. Berry is a highly experienced flutist and teacher, offering exceptional private flute & recorder instruction to dedicated students in the South Shore area of Boston, MA
Doctor of Music Arts (D.M.A.) degree focused in Flute Performance, Pedagogy and Music Education from the Saint Petersburg State Conservatory named after N.A. Rimsky-Korsakov (Russia).
Over 25 years of successful teaching experience with kids and adults of any level
Extensive performance experience
---
BENEFITS OF FLUTE LESSONS:
Get a head start for the school year
Qualify for advanced band or orchestra
Develop fluid technique and mature musical style
Prepare for an audition, concert, church or family performance
Advance your understanding of music principles that you can apply to any music or instrument
Gain confidence and play flute for pure enjoyment
---
AT THE LESSONS WE WILL WORK ON:
Flute technique
Development of a beautiful sound and controlled vibrato
Breath control with a diaphragmatic support
Ear training, intonation, sight reading, musicianship
Music theory, expression marks, dynamics
Understanding musical phrases and forms, learning aesthetic interpretation and musical organization
Understanding complicated rhythms and time signatures
Learning effective practice strategies to maximize productivity
Building performance skills and overcoming performance anxiety, guidance through the entire performance preparation process, performance feedback through audio and video analysis
Music from the Baroque, Classical, Romantic, Impressionistic and Contemporary Periods
Effective use of the musical body
Injury prevention (prevention of pain, tension, fatigue).
CORRECTING ANY PROBLEM with a body posture, hands and an embouchure
Discarding bad habits – musical, physical and mental
Weekly individualized feedback and more.
---
HEALTH BENEFITS OF DIAPHRAGMATIC BREATHING USED IN PLAYING WIND INSTRUMENTS AND SINGING
"Breathing is unquestionably the single most important thing you do in your life. And breathing right is the single most important thing you can do to improve your life." –Sheldon Saul Hendler, MD, PhD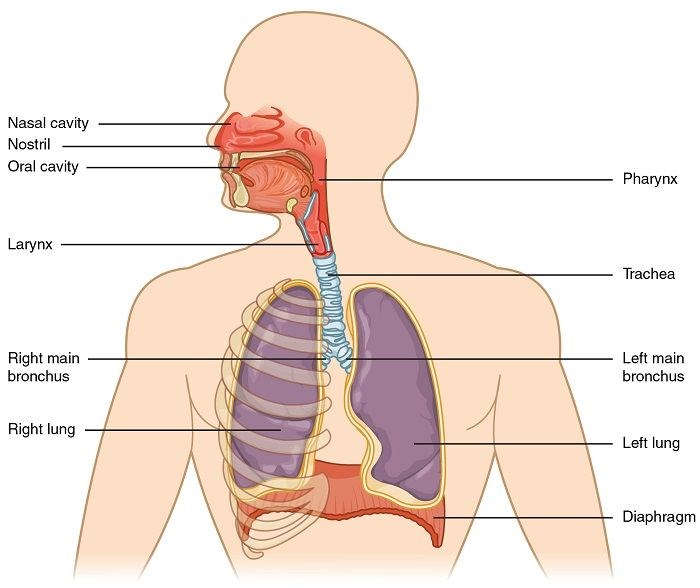 * Improves circulating oxygen levels
* Improves core deep abdominal and pelvic floor muscle function
* Decreases blood pressure
* Reduces fatigue
* Detoxifies and Releases Toxins
* Strengthens the Immune System
* Relieves Asthma symptoms
* Relieves Allergy symptoms
* Improves the nervous system
* Helps digestion by massaging the internal organs
* Reduces stress and anxiety
ONLINE LESSONS
Online lessons and coaching for distance learning students. Available Worldwide.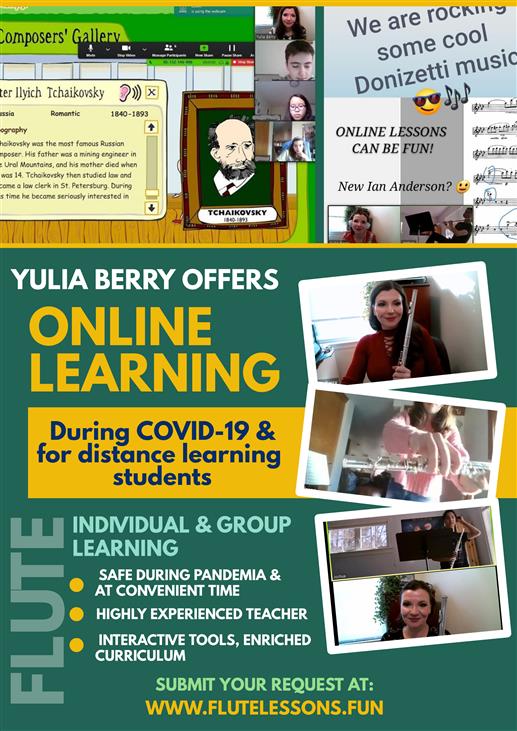 Please, contact us at this page
---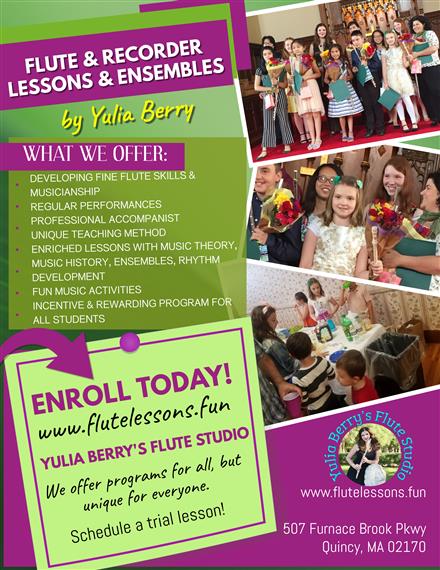 Quincy, MA location
Convenient for all South Shore of Boston (towns: Quincy, Braintree, Weymouth, Hull, Hingham, Milton, South Boston, Boston, etc)
Near the MBTA Red Line.
Sharon, MA location
New England Flute Institute is located in the center of Sharon, MA. (towns - Sharon, Canton, Easton, Stoughton, Dedham, Norwood, Westwood, Randolph, Mansfield, Medfield, Wrentham, Holbrook, etc)
OTHER PROJECTS
NEW ENGLAND FLUTE INSTITUTE
Yulia Berry is Founder and Artistic Director of the New England Flute Institute, where traditions meet exploration. NEFI nurtures musical developement, performance skills and inspires artistic excellence in all our students - from beginners to emerging professionals - by offering well-rounded music education, access to learning resources and opportunities to work closely with some of today's leading Flute Artists. NEFI is located in Sharon, MA.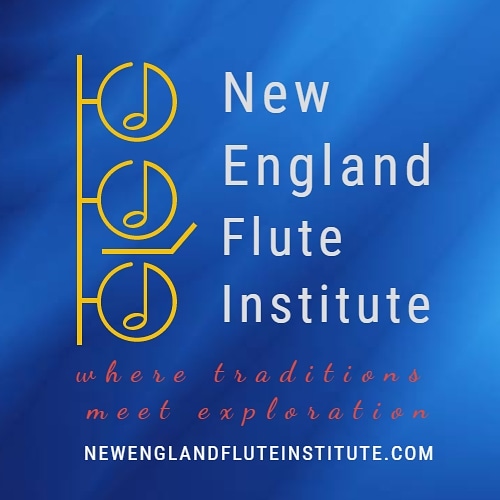 THE BABEL FLUTE
Yulia Berry is Founder and Director of International magazine & community "The Babel Flute" with a goal to bring flutists from all continents together. The Babel Flute publishes latest flute research, offers flute forum, a job board, flute quizzes and games, a shop and more. All content is instantly translated to over 100 languages.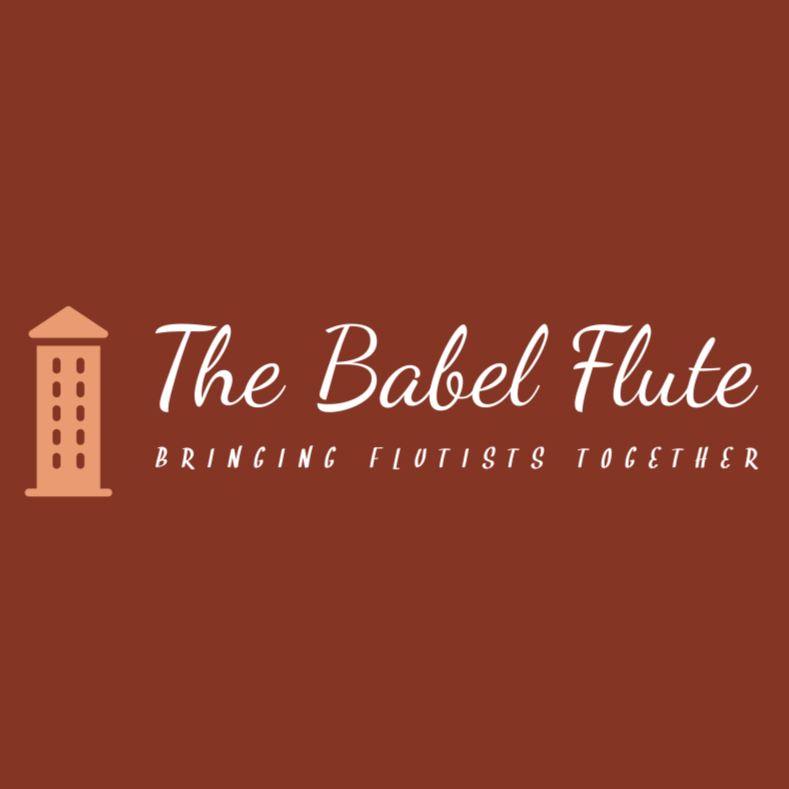 ALL ABOUT FLUTE
Yulia Berry is the creator and the developer of the web resource ALL about FLUTE. This is a must have for flute players of all skill levels and disciplines. With useful links, streamlining notifications, and informative articles, "ALL about FLUTE" serves as a gateway into the world of flute.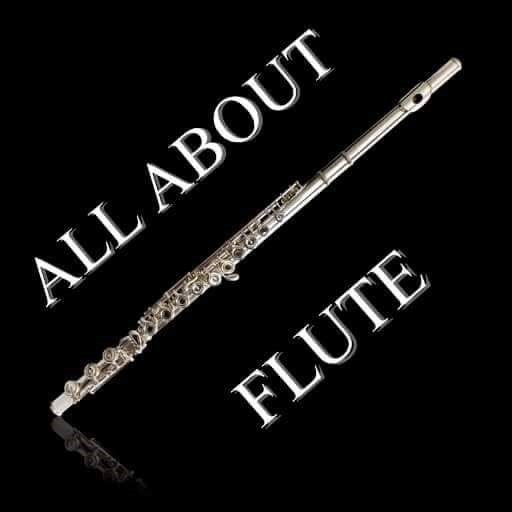 ONLINE PUBLISHER / EDITOR / INTERVIEWER
Yulia Berry is interviewer and editor at Chattoir Editorials - an exciting addition to the Internet community ChaTToir!, created for artists and musicians.
WEB FLUTE ACADEMY
Yulia Berry is co-founder, along with renowned Italian flutist Onorio Zaralli, of Web Flute Academy. Web Flute Academy (WFA) is an online institution, offering an innovative way to learn the flute by blending best e-learning tools and live video meetings, while using the most advanced computer and mobile technology, as of today. Web Flute Academy is for anyone, who wants to dramatically improve their flute and performing skills, while studying in the convenient place and time. Visit WFA at www.webfluteacademy.org