Time to sign up
Friday, August 25, 2017 by Yulia Berry | Registration
The Fall semester starts on September 10. If you haven't signed up, please, do so now. Only a few time slots left.
Flute lessons for children and adults in Quincy Center (South Shore of Boston, MA)!
ANY LEVEL.
Ages 6+
No previous music experience necessary to enroll.
Performance opportunities with a professional accompanist.
Chamber classes.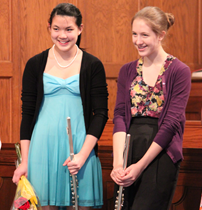 Registration for 2017/2018 is OPEN
Monday, June 19, 2017 by Yulia Berry | Registration
The registration for the Fall semester (September to January) is now open. Besides individual flute lessons I offer Music Theory Course and Chamber Music Course. If you want to reserve time for the next year, please, do not wait, register now.
I look forward to continue seeing you and building your solid flute playing skills and have fun at our recitals!