COLLABORATIVE PIANIST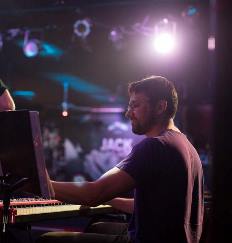 Since 2016 Yulia Berry has been working with a professional accompanist, a performer, a composer and a piano instructor Daniel Padgett. Yulia Berry and her students truly appreciate all knowledge, great experience, fabulous musicianship and sense of style that Daniel shares with them.
Daniel Padgett enjoys an active and varied career in music. He is frequently sought
after as an accompanist and collaborative pianist throughout New England and beyond.
Daniel has had the pleasure of collaborating with notable musical figures such as composer John Harbison, drummer Jason Marsalis, singer Ronan Tynan of the Irish Tenors, Seattle Opera director Stephen Terrell and many others.
He is a member of the progressive chamber music ensemble Cordis, led by Richard Grimes, considered by many to be the world's premier player of the electric cimbalom. Daniel's original compositions and recordings of contemporary classical music can be found on numerous podcasts, iTunes, Spotify, Tidal, Soundcloud and all other streaming platforms.